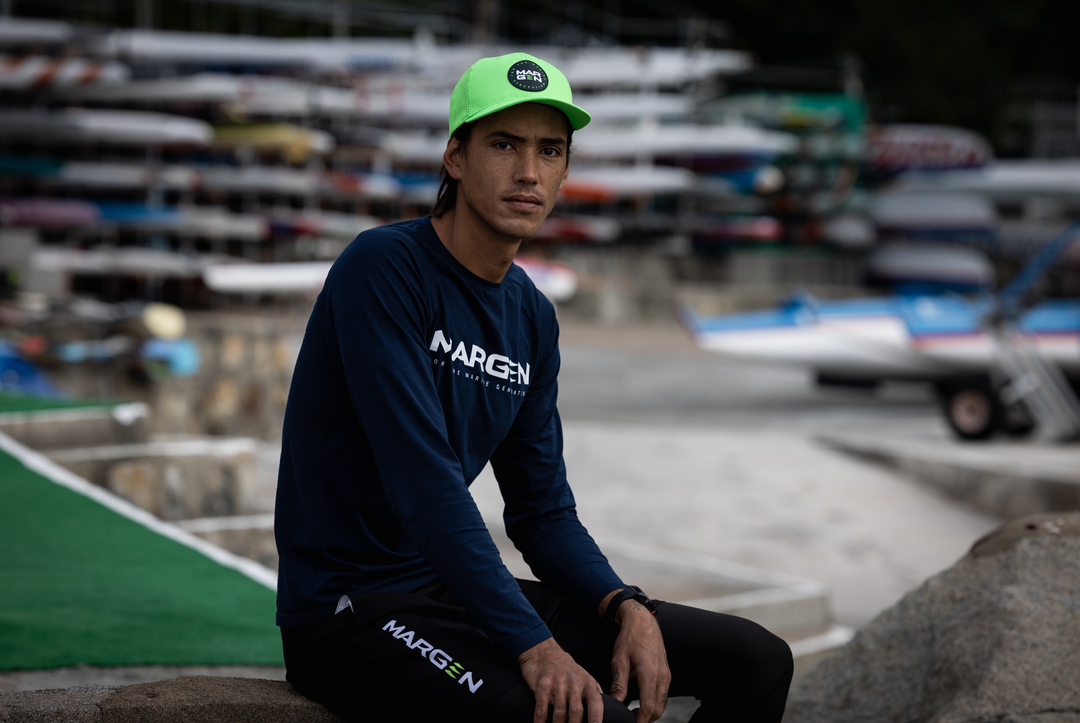 ALEX HUNTER
Alex started his athletic career in BMX racing for the Hong Kong national team. After a serious spinal injury, he eventually turned to watersports paddling paddling SUP, Surfski and OC. He quickly became an avid solo paddler and he rose to notoriety thanks to his inspiring YouTube paddling videos. Alex eventually joined the prestigious Hong Kong Victoria Recreation Club in 2020 and rose up the ranks to become the club's OC Head Coach in 2022, leading his unlimited crew to success by winning the Around The Island Race and Round Lamma OC6 races. Alex also won the Steelcase Dragon Run 2022 in OC1 category. Alex is also a major player in MARGEN and its development focusing on product dev and media creation.

Alex's Instagram
Alex's YouTube

FAVORITE RACE
The Steelcase Dragon Run in Hong Kong
FAVORITE SPOT
Nine Pins in Sai Kung, Hong Kong
NEXT DESTINATION
The Gorge Downwind Champs 2023 and Tahiti
How did you find your passion for the Ocean?
Being forced into early retirement from cycling due to a spinal injury in 2011, I had a lot of free time on my hands and needed to find something new to do. Living in the beautiful seaside town of Sai Kung, it was only a matter of time before the water started calling. I first started with Stand-Up-Paddle boarding and quickly got hooked (excuse the pun…) on catch and cook YouTube videos. I would paddle out to the islands to camp and fish. Camping was always fun, but fishing was never very successful. As I started to spend more and more time on the water and while training for SUP racing, I began to meet other paddlers on the water. I eventually met an amazing paddler called Ivana. Ivana was the first person who introduced me to surfski. One day, she asked me if I wanted to try her ski and it only took a few seconds before I was already sitting on it. I instantly fell in love with how technical it was and how much faster than a SUP it was. From there and just like anything I do, it was all or nothing and I ended up spending EVERY SINGLE DAY on my ski. What really solidified my passion for the ocean and what has made it an integral part of my life is when my dad passed away. We spread his ashes in the waters by his favourite beach, the beach he would go to every time with my mum when he had the energy between chemo sessions. At that moment, the ocean and I connected, forever. I will always stop for a moment whenever I paddle past those waters.
What does your ideal day look like?
Most days have been my ideals lately. I've been doing a lot of paddling which basically makes everyday ideal. I wake up at 4am, walk Kai (my dog) to Sai Kung for breakfast and a swim (for Kai), then walk back and get ready to paddle! I'd choose the best runs based on the winds. Nothing beats "The Great Northerly" In Hong Kong, a winter run with the fridge winds being blown down from Mongolia. Basically our Hong Kong version of The Gorge, endless surf from Sai Kung to either clear water bay or Stanley. On an ideal day it be pumping 30+ knots winds. We can squeeze in 2 back to back runs. Then I would spend the rest of the day trying to warm up with Kai and re watch endlessly the go pro footage from that day, thinking about the next run! My ideal day basically involves anything around Kai and Paddling! 
What do you do when you are not on the water?
With my role in MARGEN extending beyond an Ocean athlete, I spend a part of my time working closely with Franck, developing and testing new MARGEN products along with creating content and connecting with other Ocean Athletes. I am also the Co-Founder of ATP Personal Training in Hong Kong which takes up the rest of my time off the water. After being the General Manager for 4 years, I now focus on the marketing side for our locations in Hong Kong and Singapore. Outside of the work element, I love to unwind with my dog Kai and hang out with my friends. I live in the countryside of Hong Kong, Sai Kung, a traditional fishing village that has a very rich Dragon Boating community. During my evening walks with Kai down at the waterfront, I love watching all the dragon boats out practicing under the moonlight and dodging every rock thanks to years of experience in those waters. At early morning, and on the same path, I would watch the grandma's and grandpa's braving any and all elements to get their morning swims in by the pier. Living in this part of Hong Kong grounds you.